Living in Downtown Fort Worth: Your Complete Guide
Posted by Brady Bridges on Thursday, May 11, 2023 at 8:57 AM
By Brady Bridges / May 11, 2023
Comment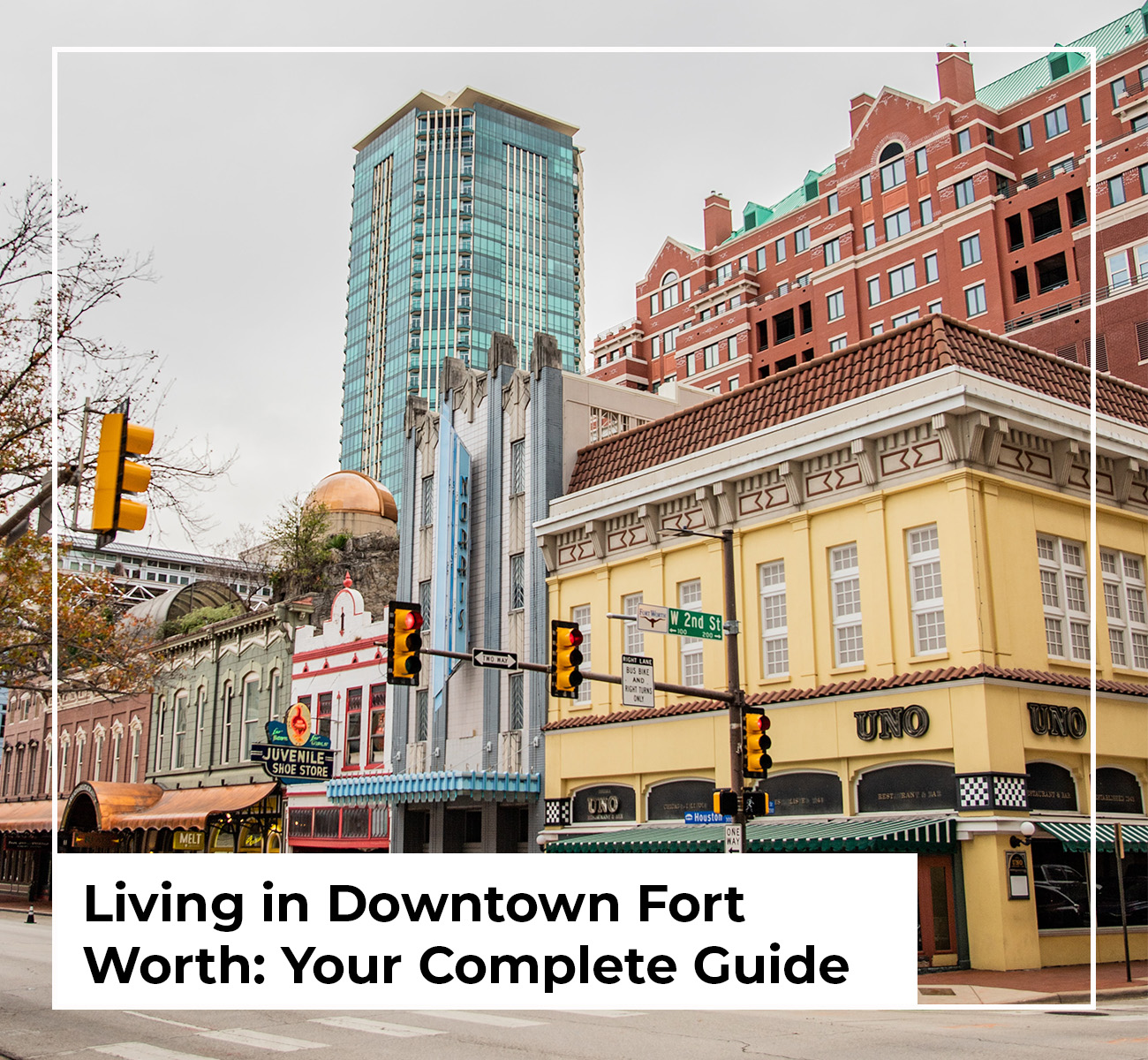 Downtown Fort Worth is an attractive location for many people due to its thriving economy, vibrant culture, and numerous amenities. Whether you're a young professional, a retiree, or a family with children, there are countless reasons why living in the vibrant and exciting downtown area of Fort Worth could be an excellent choice for you.
First things first: Fort Worth is the fifth largest city in Texas and is one of the fastest-growing cities in the nation. In the recent 2020 Census, the Dallas-Fort Worth Metroplex had a population of 7.6 million residents and that number has only continued to grow.
Although Fort Worth is often compared to Dallas, which is about 30 miles east, the two cities are geographically and culturally separate. Fort Worth residents have the luxury of enjoying big-city amenities in Dallas while also having ample space to unwind and relax away from the hectic urban environment. Locals often say that Fort Worth is more relaxed than Dallas and has more of a small town feel than its neighbor.
Where To Live Downtown
As you might expect, condos and townhomes are the primary housing for those looking to buy in the downtown area. Here's a few options to explore with high walkability scores and easy access to the best of downtown life:
Tower Residential Condos: originally an office building, The Tower was converted to 35 floors of luxurious high-rise residential living in 2005. Residents of The Tower enjoy 24/7 concierge service, fitness center, party room, plus outdoor lounge space including a dining terrace, pool, fire pits, putting green, and dog park.
Texas & Pacific Lofts: the T&P Lofts building was originally built in the 1930s as a passenger depot and corporate offices for the Texas & Pacific Railroad. This building features many amenities including a fitness center, outdoor lounge, indoor heated pool, and party room - plus beautifully preserved historical elements and Art Deco details, blended with modern upgrades in each unit.
Houston Place Lofts: dating back to 1906, this was originally a bank and office building before being converted to apartments and then condos. These lofts are known for their tall ceilings, open-concept layouts, and large windows - plus parking on the same level as your unit.
Omni Residences: 33 floors tall, the Omni is home of luxuriously appointed residences and amazing views of Fort Worth. The Omni Residences offer a private rooftop spa and pool (heated, of course!), workout facilities, party room, and concierge and valet services - plus access to on-site amenities at the Omni Hotel.
Le Bijou Townhomes: these homes feel more like single-family homes while still offering the convenience and luxury of condo life, right in the middle of downtown life. Each unit ranges from 3,000 to 5,000 square feet spread out over three stories with a private elevator, front entrance, and rooftop terrace.
Working in Downtown Fort Worth
One of the primary benefits of living in downtown Fort Worth is the access to a wide range of job opportunities. Fort Worth has a diverse economy with many businesses operating in industries such as transportation, healthcare, education, and technology - including American Airlines, Boeing, Lockheed Martin, Burlington Northern Santa Fe Railway, Pier 1, Alcon, Cook Children's Health Care, Fidelity, and many more.
As a result, there are many job opportunities available for people with various skills and backgrounds. Many large corporations have offices or headquarters in Fort Worth, making it an ideal location for those seeking employment with major companies. Those looking for employment in the food and hospitality industries should also consider living downtown. There are a number of opportunities available in the area's cafes and restaurants, ranging from fast food to fine dining, as well as a variety of chain to boutique hotels.
Fort Worth residents are also employed by local school districts as well as city and county governments in the surrounding towns like Keller, Arlington, Burleson, Benbrook, and Aledo, and Tarrant, Parker, Dallas, and Johnson Counties. Living downtown offers a convenient place to start your commute regardless of whether that means a walk just down the block or a drive on the interstate.
Cultural Adventures, Close to Home
Another benefit of living in downtown Fort Worth is the rich cultural experience. There's always something new to explore in the nearby cultural district! Residents can easy take advantage of both the permanent and rotating exhibits at the area's many fine museums.
The Fort Worth Museum of Science and History offers hand-on educational experiences for children, including a fossil dig, Noble Planetarium, and the Omni Theatre - the largest IMAX dome in the United States west of the Mississippi River.
In the Amon Carter Museum of American Art, you'll find a strong focus on classic depictions of the Old West by well known "cowboy artists" like Frederic Remington and Charles M. Russell, as well as paintings, sketches, sculptures, photographs, and more illustrating scenes of American life.
The Modern Art Museum of Fort Worth features more than 3,000 works of post-World War II art in a variety of mediums by famous artists like Pablo Picasso, Jackson Pollock, and Andy Warhol.
The Bass Performance Hall is another major attraction, hosting a variety of concerts, plays, and musicals throughout the year. It's the home of the Fort Worth Symphony Orchestra, Texas Ballet Theater, and the Fort Worth Opera — the oldest continually operating opera company in Texas.
Local Favorites: Shop, Eat, and Play
In addition to its cultural offerings, downtown Fort Worth affords a variety of shopping and dining options. Sundance Square, the city's premier shopping and entertainment district, features 35 blocks of boutique shops, restaurants, and nightlife. With the city's commitment to supporting local businesses, you're sure to find plenty of unique and one-of-a-kind spots to explore.
In Sundance Square, residents can indulge in everything from unique jewelry shopping at Cary O'Keefe or Haltom's Jewelers to the global decor and clothing options at Earthbound Trading Company or Coleccion Mexicana. Pick up a new plant at the soothing Urban Plantology or a vinyl record at Union Station. With so many options to choose from, there's bound to be something for everyone!
When the shopping has worked up your appetite, Sundance Square offers a nearly endless variety of places to grab anything from a quick coffee to a full steak dinner. Local favorites include Riscky's Barbecue, 3rd St Market, and Buffalo Brothers, with national eateries such as PF Chang's, The Cheesecake Factory, and Del Frisco's Grille rounding out the choices to fit any taste and budget.
The area also features a number of public art installations and outdoor performance venues which makes it an exciting place to spend time - day or night! Sundance Square Plaza is 55,000 square feet with fountains, giant umbrellas, and a state of the art lighting and sound system with a variety of local acts frequently performing on the permanent stage.
If jazz is your jam, check out Scat Jazz Lounge for old-school vibes and cold drinks. They feature a mix of local, regional, and national musicians and were listed as one of the top 25 "Must See" jazz venues in the US. Speaking of awards, GQ Magazine named Fort Worth's Flying Saucer one of the 12 best bars in America - check them out for a huge selection of draft beers and made to order food. Downtown offers a multitude of choices to enjoy your beverage of choice in a unique setting and take advantage of the city's nightlife.
Active Living for Any Age
Beyond its cultural and culinary attractions, downtown Fort Worth is also a great place to live for those who enjoy an active lifestyle. The city has a variety of parks and green spaces perfect for getting outside and crushing your goals - or just relaxing while you enjoy the Texas sunshine. Downtown has some of the highest walkability scores in the city, and living in the heart of it all makes for a quick and easy walks to work, shopping, and all of those the amazing restaurants.
The Trinity Trails system runs to the north and west of downtown Fort Worth and offers over 100 miles of paved and gravel trails for running, walking, and cycling your way through 31 different neighborhoods throughout the city. Get up close and personal with the branches of the Trinity River from a kayak, paddleboat, or stand-up paddleboard via eight different launch points along the trail system.
Downtown has its own YMCA with a year-round indoor pool, whirlpool, and sauna, as well as group exercise classes, racquetball courts, plus cardio and strength training equipment. Families will love the swim lessons and summer day camp to keep kids fit and active. Membership discounts are available for teens, young adults, and senior citizens.
A quick drive from downtown you'll find multiple large city parks. Trinity Park covers over 250 acres and was the first park purchased by the City of Fort Worth, back in 1892. Today's visitors can spread out and enjoy Dream Park Playground, watch the ducks, shoots some hoops, use the trails, and check out the Trinity River.
Gateway Park, located to the east of downtown along the west fork of the Trinity River, offers nearly 800 acres that includes trails for walking, running, and mountain biking, plus canoe launches, picnic areas, a playground, and soccer, baseball, and softball fields. Fort Woof is the first off-leash dog park in Fort Worth and covers five acres near Gateway Park's softball fields - perfect for your furry friends to explore and enjoy!
Upgrade to Downtown
With its multitude of employment opportunities, cultural happenings, unique shopping and dining experiences, and proximity to recreation options, life in downtown Fort Worth is full of both new experiences and old favorites. Drop a comment below to tell us your favorite thing about downtown!
Reside Real Estate represents the region's finest properties with exceptional skill using the most innovative technologies currently available. Reside Real Estate offers ultimate privacy and security, speed, and efficiency. Their years of full-time experience have given them a clear understanding of the mindset of home buyers and sellers and a thorough understanding of the regional marketplace.