Moving To and Living in Fort Worth, Texas
Posted by Brady Bridges on Thursday, April 22, 2021 at 12:15 PM
By Brady Bridges / April 22, 2021
1 Comment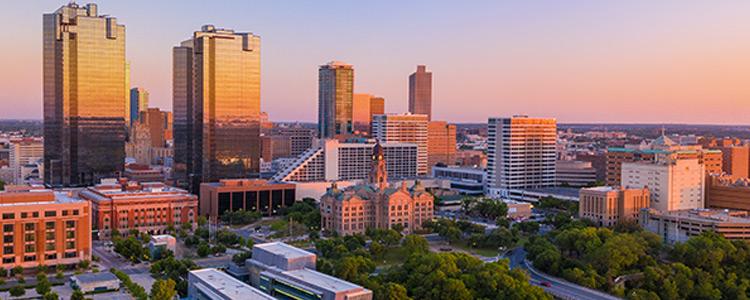 Fort Worth, Texas is a thriving and vibrant city located in the northern portion of the state. With a large population of roughly 909,000 residents, Fort Worth is the fifth-largest city in Texas and the thirteenth-largest city in the country.
View All Homes For Sale In Fort Worth, Texas >>>
Home to a diverse mix of residents, real estate, businesses, and amenities, Fort Worth is an attractive city for all walks of life. Filled with exciting entertainment, well-rated schools, family-friendly neighborhoods, and much more have made the city a popular area for buyers from across the county, state, and country.
What is Fort Worth's History?
Fort Worth has a rich history that has shaped the city into what it is today. The area was first home to a number of "trading houses" which were referenced in the Treaty of the Bird's Fort, which was signed between the Republic of Texas and several Indian Tribes in 1843. This treaty stated that no one may pass the "line of trading houses", which were established at the junction of the Clear Fork and West Fork of the Trinity River.
A few years later, in 1849, the U.S. War Department established Fort Worth, which was the northernmost of 10 forts that served to protect the American frontier post-Mexican-American War. To this day, Fort Worth continues to be known as "where the West begins."
In the first year that the fort was built, the area flooded. The fort was then relocated on top of the bluff by Major Ripley A. Arnold. In 1853, the U.S. Army evacuated Fort Worth for a new line of forts that were built to the west.
After the army evacuated, settlers took over the site, and by 1854 the first school was built, followed by a general store and a flour mill in 1856. In 1855, Fort Worth fought for and won the county seat, and construction of a courthouse began; however, it was not finished until ten years later due to the Civil War.
During the war and reconstruction period, Fort Worth was almost erased completely. The population dwindled to a mere 175 residents who, like many others, were flagged with hardships. After the effects of the war started to fade, the city began to experience both growth and recession until a significant boom due to the arrival of the Texas and Pacific Railway in 1876.
The early 1900s brought further growth as both Swift and Armour meatpacking facilities were set up in Fort Worth, introducing thousands of new jobs. In a short time, the city's population tripled in size from approximately 25,000 residents to 75,000 residents.
In the 1920s and the 1970s, oil was found in nearby cities, which furthered the development and expansion of Fort Worth, which conveniently was located in the middle of these areas.
More recently, from 2000-2006 specifically, Fort Worth was the fasted growing city in the U.S. Today, Fort Worth is still a growing city. New residents are attracted to the affordable housing, booming economy, family-friendly neighborhoods, and exceptional city amenities.
What is Real Estate like in Fort Worth?
Fort Worth has a diverse real estate market that caters to a large number of buyers. From bungalows to two-storeys, to condos and townhomes, the city offers an eclectic mix of housing opportunities.
The most popular housing style found in Fort Worth are single-family detached properties. This style accounts for approximately 66% of housing for sale on the market. The majority of homes also offer at least three bedrooms and two bathrooms.
The average price for homes for sale in Fort Worth falls around $230,000, which is an increase of roughly 6% since 2020. There a wide range of housing options throughout the city, many of which fall under $200K. On the opposite end of the spectrum, there is a significant amount of luxury real estate also found in the city, with neighborhood averages topping $1 million.
What are the Best Neighborhoods in Fort Worth?
There are a ton of great neighborhoods which are located in Fort Worth. From family-friendly suburbs to urban communities, the city is able to accommodate all lifestyles. Regardless of where you choose to call home, Fort Worth residents are able to quickly and easily reach many of the city's great amenities, excellent schools, and more.
Monticello is a charming neighborhood that falls close to the popular Texas Christian University. Encompassing zip code 76107, Monticello's boundaries are often easily blurred with neighboring Rivercrest. The safe community is home to large, sprawling homes, quiet streets, and friendly neighbors.
Rivercrest, Monticello's neighbor, is one of Fort Worth's most popular neighborhoods and is home to stunning luxury homesites, some of which enjoy sought-after locations on the bluffs. A well-established community, Rivercrest residents enjoy quiet streets and a tight-knit atmosphere. Homes for sale in Rivercrest typically begin over the $1 million marks.
Crestwood is an idyllic neighborhood that is hugged by Rockwood Park to the north. Homeowners in Crestwood enjoy the scenic surroundings of both the park and the West Fork Branch of the Trinity River. Many Crestwood homes are nestled along the park and enjoy private and peaceful settings.
Arlington Heights is located slightly north of I-30 and is an attractive residential community for both families and singles alike. Made up of primarily single-family homes, Arlington Heights is ideally located next to the famous Historic District. Residents can quickly visit many popular attractions throughout Fort Worth.
Things To Do in Fort Worth
Fort Worth is an exciting and vibrant city, filled with activities and events for every resident to enjoy. Locals are able to take advantage of the many shopping centers, restaurants, entertainment venues, and more which are dotted throughout the city.
Some of Fort Worth's most popular attractions include the Fort Worth Zoo, Fort Worth Water Gardens, Kimbell Art Museum, Stockyards National Historic District, Fort Worth Botanical Gardens, and the Texas Cowboy Hall of Fame.
Fort Worth is home to the Fort Worth Convention Center, which is located in Sundance Square. The center routinely hosts a variety of acts and events throughout the year with famous past guests, including the likes of Elvis Presley, Bob Dylan, U2, and Metallica. Other events held include seasonal markets, food shows, sports events, and more.
Outdoor Activities and Natural Beauty
Thanks to over 200 parks and green spaces and the Trinity River, Fort Worth is home to some of the most beautiful natural settings in the area. Residents of the city are able to enjoy a plethora of outdoor recreation opportunities, which range from hiking, horseback riding, canoeing, and much more.
Both neighborhood and community parks are sprinkled throughout Fort Worth, offering features such as playgrounds, multi-use sports fields, community pools, sports courts, trails, ponds and lakes, and picnic areas. Some of the city's most well-loved parks include Trinity Park, North Z Boaz Park, Lake Como Park, Rockwood Park, Harmon Field Park, and Gateway Park.
Golfers can visit the number of courses which fall around the city. Both public and private courses are found and offer stunning scenery and challenging holes. Ridglea Country Club, Colonial Country Club, Pecan Valley Golf Course, and Rockwood Golf Course are just a few of the options found in Fort Worth.
Many Fort Worth residents like to make use of the winding trail network and a portion of the Trinity River, which runs through the city. A number of access points are found throughout Fort Worth, where visitors can jump on and meader through the trail system. Whether strolling along the river's edge or making one's way through forest areas, the trails in Fort Worth offer a great way to get outdoors and stay active. The river is also an excellent option for fun activities which include paddle boarding, canoeing, fishing, and more.
A Glimpse into Fort Worth's Education System
The majority of Fort Worth is served by the highly-rated Fort Worth Independent School District. The fifth-largest school system in Texas, the FWISD serves over 86,000 students throughout the academic year. Technically, 14 more school districts serve Fort Worth; however, the majority of schools in the city fall under the FWISD.
Throughout the city, there are well-ranking public schools that educate students from pre-kindergarten through grade twelve. The district, along with individual schools, strives to provide safe and welcoming learning environments which promote academic as well as personal growth. Students throughout Fort Worth enjoy a challenging and rigorous curriculum that promotes and encourages them to reach goals and achieve their highest potential.
In order to provide a well-rounded education, schools in Fort Worth also offer a wide range of extracurricular activities and enrichment opportunities for students to participate in. Various clubs and groups are found throughout the city, as well as interscholastic sports teams such as football, baseball, soccer, and more.
Fort Worth is also home to many private schools that offer both religious and non-religious instruction.
There are a handful of higher education schools in Fort Worth, with the most popular being Texas Christian University. Other schools include campuses for the University of Texas at Arlington, Tarleton State University, and Remington College.
Art and Culture Throughout Fort Worth
Fort Worth is a rich and diverse city that happily and routinely celebrates this fact. From cultural events to a large number of art centers, Fort Worth is an inclusive and progressive city. There is an impressive group of museums which are located in Fort Worth which include:
Kimbell Art Museum
Modern Art Museum of Fort Worth
Amon Carter Museum of American Art
Fort Worth Museum of Science and History
National Cowgirl Museum
Texas Cowboy Hall of Fame
Fort Worth Aviation Museum
There is always something happening in the city as far as events and festivals go. Residents can find something at any time, whether it be a street festival, cultural celebration, music concert, or holiday celebration.
Shopping and Dining Opportunities in Fort Worth
There are plenty of opportunities for residents of Fort Worth to spend the day enjoying some retail therapy. The city is home to a wide selection of stores, malls, boutiques, and more. Everyday necessities are also easily accessible with a large number of plazas and strip malls which offer up convenient food stores, pharmacies, specialty services, and more.
Downtown there is a large concentration of business and retailers. From clothing to housewares, decor to gifts, there are endless options to choose from. Larger malls throughout Fort Worth include Hulen Mall, Ridgmar Mall, University Park Village, La Gran Plaza de Fort Worth, and Southtown Shopping Center.
Fort Worth is home to a large number of restaurants, bars, bistros, cafes, and breweries. The city offers up just about every restaurant-style imaginable. Diners can quickly and easily find delectable fine dining, home-cooked southern fare, or even ethnic eats, which will take their tastebuds on a trip around the world!
A popular district to find some of the best restaurants in Fort Worth is W 7th Street. This up-and-coming, trendy area is home to a wide array of eateries that are perfect for a celebratory meal, after-work drinks with friends, or date night. Must try locations include:
Saint-Emilion Resturant
Piola Italian Resturant and Garden
Blue Sushi Sake Grill
The Social House
Mash'd
Rodeo Goat
360 Smoke Shack
Velvet Taco
Other tasty choices are concentrated along Magnolia Ave. or dotted throughout the city. It doesn't matter what you may be craving, Fort Worth's dining scene is sure to satisfy!
Fort Worth is a beautiful city filled with everything residents could want as well as need. From endless entertainment to state-of-the-art medical facilities, acres of outdoor adventure, to top-rated education. Fort Worth is home to great neighborhoods, great jobs, and, most importantly, great people. Regardless of your reasoning for moving to Fort Worth, the city welcomes newcomers with open arms, happily embracing them for the next chapter of their lives.