Renovations & Trends For Highest Return On Investment
Posted by Brady Bridges on Tuesday, February 1, 2022 at 9:00 AM
By Brady Bridges / February 1, 2022
1 Comment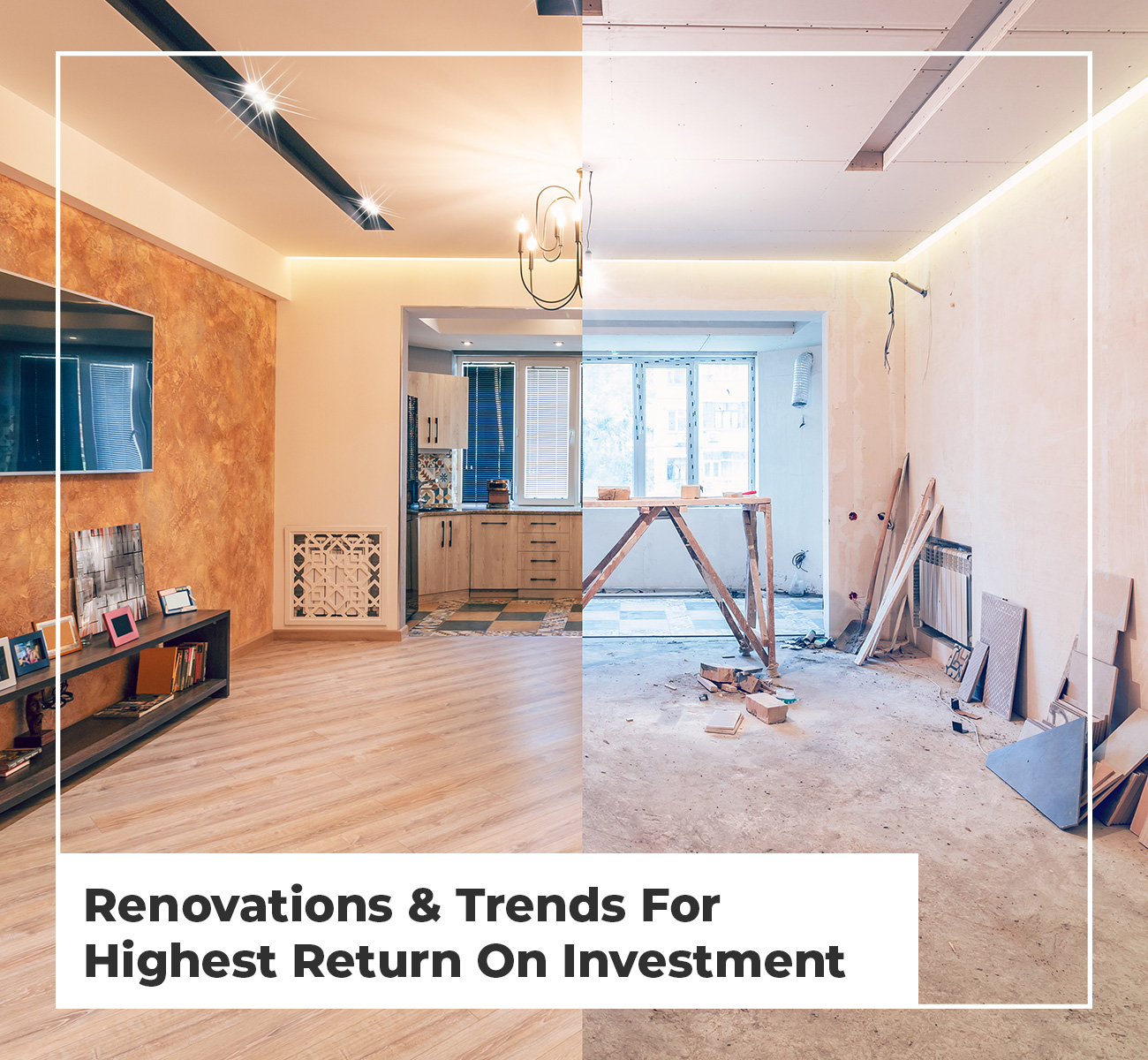 Selling your property can be stressful, time-consuming, and costly. The property market is constantly changing with the seasons, new housing developments popping up around every corner, and with the latest trends in home renovations. Before taking a step into selling your own property, it's important to stay on top of these trends and renovate your home in a way that will give you the highest return on investment (ROI).
Before doing any major renovations, it's a good idea to consult a home appraiser in order to compare the numbers when the renos are complete. Look at other homes in your area and discuss your home's value with a local realtor. Do your research before you sign off on any plans with a contractor to determine what the trends are, the process your home is about to go through, and what will get you the best bang for your buck in the long run.
This article will go over some of the top renovation ideas to give your home the boost in value that you're looking for and will discuss some of the highest return on investment projects you can take on.
1. Full Bathroom Remodel
When it comes to renovating your home in order to increase its value, one of the best places to start is the bathroom. There are a number of things you can do to your bathroom in order to increase its value.
If you're considering a full bathroom remodel but aren't too sure where to start, here are some popular ideas:
installing new tile or vinyl flooring
updating the fixtures and fittings
painting the walls and ceiling in a bright and cheerful color
If your budget allows, you could also consider replacing the bathtub or shower enclosure, or upgrading the vanity unit and cabinets.
One thing that you should be aware of when considering a bathroom remodel is that bathrooms are some of the smallest rooms in most homes, meaning that less comprehensive changes are sufficient to make a big difference.

2. Roof Replacement
Replacing a roof can be a very costly renovation and it's one that many homeowners would prefer to avoid. While you may be tempted to just leave your old, worn-out roof as it is, this could actually damage the value of your property by causing potential buyers to ask questions such as:
Who is responsible for repairing or replacing the roof?
Is there a warranty with this roof?
How old is the roof and when did it need to be replaced?
What kind of warranty do you have with this house?
Replacing a roof can actually add a lot of value to your home, especially if it's done before you go on the market. In fact, many real estate agents recommend replacing an older roof even if it's in excellent condition.
Depending on the type of roof you choose, this renovation will vary when it comes to costs. Types of roofs include:

A common problem homeowners face when it comes to roof replacement is trying to justify the costs of the renovation. To make this process easier, make sure you compare quotes from multiple roofing companies and use remodeling calculators that will help establish a realistic budget.
3. Replace Old Windows
Another renovation that can add a lot of value to your home is replacing the old, drafty windows with modern, energy-efficient ones. If you currently have single-pane windows and they're in fairly decent condition, it might be best to consider vinyl replacements instead of completely replacing them.
One of the best ways to increase your home's value is to install new, high-quality windows. The style and type of window you choose will largely depend on whether or not it matches with the overall look and design of your home.
Depending on the size and number of windows that need replacement and the type of material chosen, this renovation can cost anywhere from $1,000 to $10,000+. When it comes to choosing the best windows for your home, you should always work with a contractor that offers a wide range of window styles and replacement options. This way, you can be sure to find the best match for your home's style and needs.
Be prepared for unexpected costs when it comes to replacing windows. For example, if your home needs an electrical upgrade in order to accommodate new wiring for the windows you choose, this may affect the overall budget of the project.
When working with contractors on window replacement, be sure to discuss everything in detail with them prior to starting work on your home. This way you can avoid any hidden costs, additional labor time or work that may affect the final cost of window replacement.
4. Finishing Your Basement
Finishing a basement can add a substantial amount of value to your home, even if it's not the most attractive part of the property. In fact, homeowners who choose to finish their basements can see an average return on investment of 70-75 percent!
While it's certainly not a cheap renovation, adding a finished basement will add value and comfort to your home while increasing your living space. Before you get started, be sure to check with your local municipality regarding building codes and permits for basements. Some areas require homeowners to have their basement inspected before any renovations are made.
When it comes to the cost of finishing a basement, this renovation will vary depending on the size of the room being finished, whether or not you choose to add a bathroom and if there are any special features you wish to include, such as a wet bar or wine cellar.
5. Kitchen Remodel
One of the most popular renovations to increase value when selling your home is a kitchen remodel. While the average homeowner invests $35,000 in this renovation, it can add up to several thousand dollars in increased value when you go to sell!
These days, homeowners are choosing high-end appliances and aesthetically pleasing backsplashes made from marble and other sleek materials to improve the look of their kitchens. When choosing this renovation, you should work with a contractor who will help you create a kitchen that matches your personal style and one that also complements your home's exterior design.
While it may take several months, the average homeowner can expect to see a 75-100 percent return on investment when it comes time to sell. That said, if you're planning on selling your house, it might be a good idea to complete this renovation before listing your property.
There are so many benefits to home renovation projects and living in an upgraded home. When it comes time to sell your home, you want to make sure it's in tip-top shape and is the most attractive to potential home buyers. The best way to ensure that you're up to date on the most current market trends is to speak with a real estate professional. They'll give you the most recent information and help you get the most out of your beautiful home!