The Ultimate Guide To Living In 76123, Fort Worth, Texas
Posted by Brady Bridges on Wednesday, January 25, 2023 at 9:25:32 AM
By Brady Bridges / January 25, 2023
Comment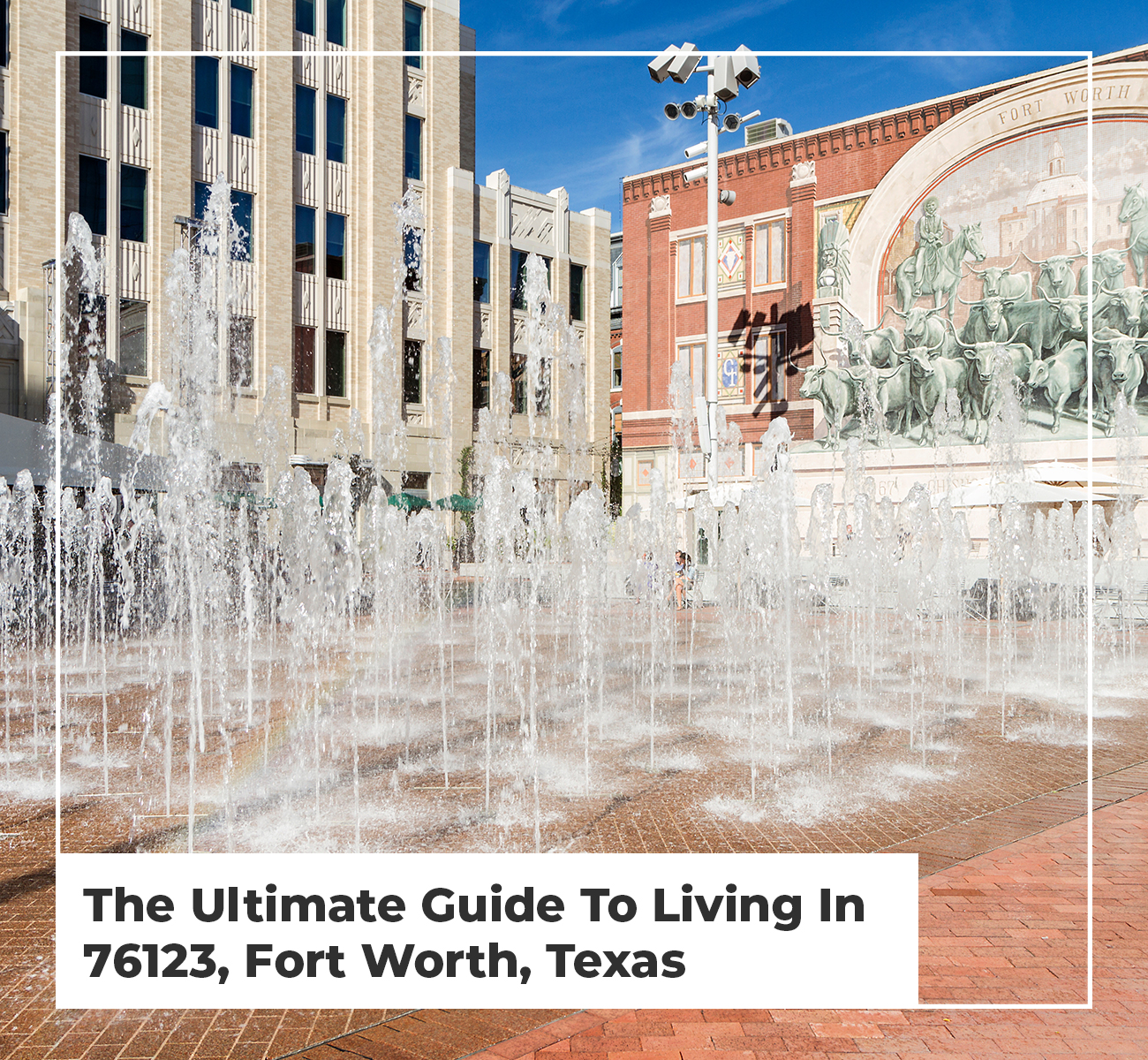 Fort Worth is a beautiful city with so many unique areas, and the 76123 area code has become a hot spot for those who are looking for a fantastic location to live in. It's situated just east of Benbrook Lake, and it's full of excellent features that make it a great place to consider for anyone who is looking for a new home. Let's have a look at some of the reasons why people have been thinking about the neighborhood with the ultimate guide to living in 76123, Fort Worth, Texas.
Where is 76123?
The neighborhood is located in the southern part of Fort Worth, and it contains four different neighborhoods: Meadowcreek, Hulen Springs Meadow, Stone Meadow, and Hulen Heights. It's home to a number of excellent schools (we'll talk more about those later!), and it has plenty of great shops for residents to enjoy. The location is about 20 minutes away from Downtown Fort Worth, so it's a perfect spot for anyone who prefers a residential area instead of a busy metro neighborhood.
Why Are People Moving to 76123?
There are so many incredible neighborhoods all over the city, but this one is climbing to the top of everyone's lists with its fantastic new housing developments. Sycamore Landing by Legendary Homes, Lennar at Llano Springs, and History Maker Homes at Chisholm Trail Ranch are some of the latest master-planned neighborhoods. These areas are in the process of building remarkable homes, and it's been great for those who are looking to find an affordable home in a welcoming residential neighborhood.
The neighborhood has become a huge hit with those who are looking to live near the gorgeous Benbrook Lake. The lake offers stunning views of the water and plenty of great opportunities for having some fun. It's popular with residents who want to enjoy fishing, boating, hunting, or camping, and many nature lovers love the area for its incredible birdwatching opportunities.
Living near a hospital is a great choice for those with medically fragile family members or those looking to move with seniors who might need extra medical care. People also consider the area due to its close proximity to one of the best hospitals in the city. The Harris Southwest Methodist Hospital has been open for 90 years and has won numerous awards for its incredible level of care.
What Kind of Things Are in This Neighborhood?
Many people have started to choose this neighborhood for its fantastic location along with the incredible homes for sale in 76132. People love living in Fort Worth and they enjoy this area for its family-friendly features. The area has plenty of beautiful parks, schools, and businesses, so let's have a look at some of them so you can get a better idea of why this area has become so popular.
Delightful Parks
Sundance Springs Park: This delightful park has a basketball court, playground, soccer field, baseball diamond, and a 1/4 mile paved trail. It's a quaint park that is great for kids and families.
Creekside Park: Just like its name, Creekside park is located right beside the beautiful creek that runs through the area, and it's a great place to consider if you're looking to get some exercise or enjoy time with the family. They have grills, shelters, a playground, tennis courts, and tables. The park also has lighting so you can enjoy it during the evening hours.
Whitfill Park: This incredible park is 23 acres of beautiful land and it has plenty of great features. It was upgraded in 2006 to make it more accessible, and they also chose to upgrade the park's playground equipment. The park has benches, grills, and tables, so it's a great place to consider if you're looking to enjoy some time with a larger group.

Amazing Schools
There are a wide variety of excellent schools in the neighborhood, so it's an ideal location for anyone who is looking at living in Forth Worth with their growing family. Many daycare centers are also located nearby, including The Children's Courtyard and DearOnes Daycare and Preschool. Let's take a look at a few of the most popular private and public schools in this zip code, so you have a better idea of how great they are.
Dallas Park Elementary School (Public School)
This highly-rated elementary school is one of the best in the area. It has about 470 students in grades Pk-5 and a student-to-teacher ratio of 13 to 1. They have a number of great sports teams for students to enjoy, and they have a gifted program available for students who qualify.
Sue Crouch Elementary School (Public School)
Sue Crouch Elementary is a great school that has about 300 students in grades Pk-5 and an excellent student-to-teacher ratio of 9 to 1. It has earned a reputation for being a well-rounded school with a great sports program.
North Crowley High School (Public School)
One of the highest-rated schools in the area is North Crowley High School, which has been ranked by Niche.com as the 267th most diverse high school in Texas. It has about 2,700 students in grades 9-12 and a student-to-teacher ratio of 14 to 1. Students who have reviewed the school enjoyed the large campus, caring teachers, and wide variety of courses that are offered by the school.
Primrose School of Columbus Trail (Private School)
If you're seeking a great private school for your children, then look no further. Primrose School of Columbus Trail has a wide variety of programs for many different age groups, and they are a fantastic choice for the younger children in your life. Those who have reviewed the school raved about the excellent programs, the incredible teachers, and the remarkable improvements their children made after attending the school.
Amazing Restaurants in 76123
Texas is well known all over the country for having some of the best food, and Fort Worth is full of incredible restaurants that will give you a great example of delectable Texas cuisine. This neighborhood has quite a few chain restaurants, but there are also a few that are only available to Fort Worth residents. Let's have a look at some of the best local cuisine in 76123.
The tagline for the restaurant is "modern dishes that capture the flavor of a homecooked meal," and that description could not be more spot on. The restaurant has been serving Fort Worth since 1991, and it has evolved to serve some of the best fine dining dishes in the area. Reviewers were impressed with the delicious comfort food, and they were surprised at the great prices.
This restaurant formerly went under the moniker "Eatilies Pizza," but the name change hasn't changed the excellent food that this Fort Worth staple has been serving. Residents love their fabulous New York Style crust and an incredible selection of pizza toppings. They make their dough and sauce in-house and top their pizzas with fresh, traditional mozzarella, so you get the authentic taste of Italy without leaving Texas.
Texas is well known for being one of the best places in the country to get a good BBQ meal, and Soulman's has been serving up to Fort Worth residents since 1974. They take pride in offering excellent food with excellent customer service, and they have been using timeless traditions that have been passed down for decades. Customers who have reviewed the restaurant raved about the impressive serving sizes and fantastic flavors.
What Are the Homes Like in 76123?
Homes for sale in 76132 are stunning, and there are many different styles available. Most of the homes are on the larger side, and the majority are located in some of the amazing new developments that have been growing in the area. The median listing price for 76123 is in the mid $300K range, which is lower than the national average so you can get an amazing home at a reasonable price. Homes for sale in 76123 are often on the market for longer than the national average, and they are typically selling after 52 days.
If you're looking to invest in property in the area, now is a great time to consider it, as the supply is higher than the current demand. There are a large number of family-style homes for sale in 76123 that would be ideal for rentals, and you can get them for an excellent price if you act fast. Fort Worth has started to become a popular area for those who want to work in Dallas but prefer to live in a residential area, and it's a good idea to invest in these homes now before Dallas gets any more popular.
There are so many great reasons to consider the 76123 area code for your new home, business, or investment property. The area is full of great houses, convenient businesses, and some of that great charm that makes Fort Worth such a special place. Have a look online at some of the fantastic-looking homes in this neighborhood so you can see which one will best suit your needs.
Reside Real Estate represents the region's finest properties with exceptional skill using the most innovative technologies currently available. Reside Real Estate offers ultimate privacy and security, speed, and efficiency. Their years of full-time experience have given them a clear understanding of the mindset of home buyers and sellers and a thorough understanding of the regional marketplace.